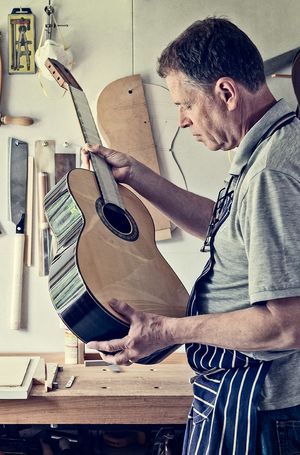 From Steve Toon:
Having come from a heritage of fine cabinetmakers, furniture designers and engineers it seems natural to have taken up guitar making.
I acquired my first guitar at the age of ten when my father found a broken one in a skip. Together we spent many hours repairing it and since then I became captivated by its sound and intrigued by its construction. I later built my first guitar at school while I was learning to play classical guitar. After leaving school I attended London College of Furniture to Study Early Fretted Instrument Making but left the course early lured by a career in the Music Industry as a live sound engineer. I did this for about 3 years before moving into the furniture industry and making guitars in my spare time.
Around 2004 I decided to stop working in furniture and concentrate solely on my guitar making as it was really my true interest and passion and have since then spent my time improving my guitar building as well as becoming a "go-to" guitar repairer. During my time building and repairing guitars I have come across guitars by notable makers and had the opportunity to study these first hand.
I have been making guitars for more than 25 years and am still fascinated by the process of turning beautiful wood into a living instrument of simple beauty which can produce versatile sound – extremely aggressive and strong, powerful and passionate or light and tender.
When I build a new guitar my aim is to make it respond to the player. I select the wood very carefully from my stock of aged wood, paying great attention to the soundboard, back and sides. I care a lot about the aesthetics of the guitar as I also think it should look good. I use traditional methods and work almost entirely by hand. My guitars are either French polished or varnished using oil varnish.
I have built guitars for John Etheridge, Gordon Giltrap, Blake Wilner, Ciyo Brown and Hayley Savage as well as many talented amateur and semi pro-players. 
To contact Steve, feel free to email him at steve@stevetoon.co.uk or at 07810752342
About Stuart Christie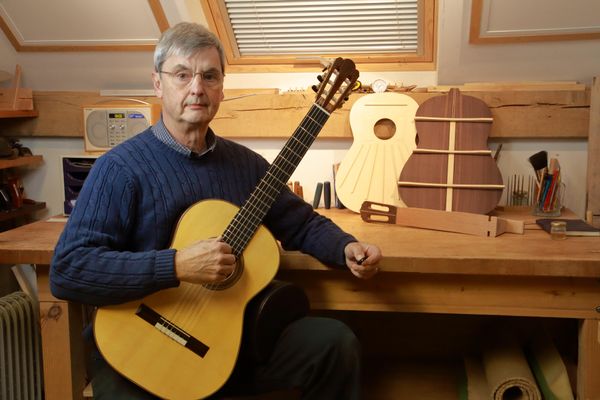 Classical guitar has been part of Stuart's life since his time at university, and during first career. He is one of many luthiers who entered the profession after being inspired by Irving Sloane's book "Making Classic Guitars". He initially made guitars in his spare time from about 2000, finally switching careers in 2013 and setting up his professional workshop.  Stuart is mostly self-taught as a luthier, but with help from many other luthiers including Peter Barton, Stephen Hill and Pablo Requena. He has expanded on his knowledge by researching numerous published and internet resources, and by his own experience in the workshop.
His guitars are traditional in construction and sound having been influenced by Jose Romanillos, Torres and Hauser. He aims for responsive guitars which are easy to play and with a full palate of tone colours.
Stuart's passion for guitar making is reflected in the standard of his workmanship including the rosettes and other decorative elements. His workshop is in the Hampshire countryside.
To contact Stuart, call at 07768131330 or email at stuart@stuartchristieguitars.co.uk
You can also find him on Facebook.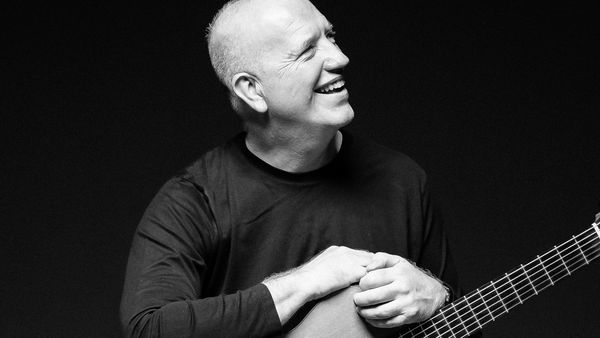 About Andrew Williams:
I write music for classical guitar and was given my first guitar in 1969. Guitars have been my constant companions ever since. I first learned classical, then diversified into folk, blues and ragtime. I turned to steel strings, started writing songs, and continued for many years. Around 2005 I returned to the classical guitar and started re-learning its technique and repertoire. Ten years later I wrote my first original composition and felt all my musical experiences come together in a pursuit that turned into a passion and an obsession. Since then, not a day has passed without work on my music.
Tell us about your composition process:
I compose what I like to hear on this instrument: intimate, harmonious, emotional and highly melodic. I write slowly, bar by bar, like chipping at a piece of marble until a form emerges. Then I play the piece over and over, making tiny adjustments and refinements. Eventually I make a recording. Often, on re-hearing it later, it seems to me that I discovered something that had always existed, rather than creating it.
Are your works published?
My music is published by Bergmann Edition.  I am only a moderate player myself and find it hard to do justice to my own music in recordings.  Thankfully, some real musicians are now taking up my pieces.  Valérie Hartzell will be premiering one of them, "Air and Digressions", at the 2021 CM festival. An excellent Russian guitarist, Alexander Loginov, is working on an album of my compositions. I welcome interest from any other players who can turn the music I hear in my head into reality.
You are a passionate guitar collector, tell us about it:
I've also developed a great love for the instrument itself.  A hand-made instrument, by a craftsman or woman with a real love of the work, is a thing of beauty and magic.  I love their uniqueness and individual character.  I now have a small but good collection of high quality instruments, and when the pandemic is over I would love to invite guitarists who can come and see me in Warwickshire, England to visit and play them.  They include makers such as Manuel Lopez Bellido, Paco Santiago Marin, Stephen Frith, Steve Toon (also exhibiting in this festival), Colin Morison, and an unbelievable instrument from the 1890s by Salvador Ibanez.  If you are interested, make a note of my contact details and get in touch when this is all over.
For commissions and for a chance to play Andrew's magnificent guitar collection, email him at andrew.williams878@gmail.com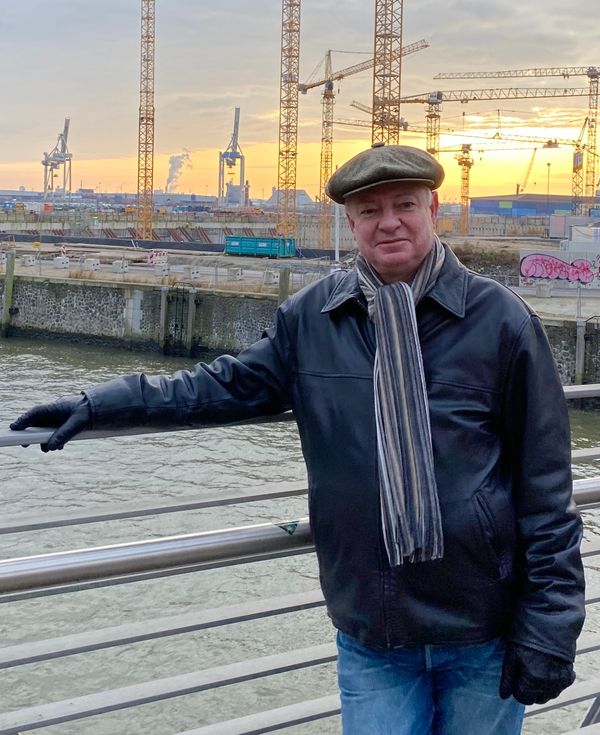 Bergmann Edition started seriously in 2015, but Allan Bergmann Jensen had been preparing for more than a year. He spent time learning how to engrave while building a platform for sales and communication. Some years earlier, he went on early retirement, and decided to play classical guitar after a 20 year pause.
He used to be a music teacher. But because he developed heavy tinnitus in his thirties, he had to drop music teaching. Instead, he retrained as a math teacher. During his career as a math teacher, he also became involved in writing and publishing math books and math applications. But unfortunately, the tinnitus made it too painful to teach classes, and because the schools needed teachers for building computer strategies, he retrained in computer science. Luckily, a lot of his teaching time did convert to development. He also taught blind and visually impaired children. Because he worked in smaller groups, this allowed the tinnitus to not interfere.
Eventually, he ended his official working life as a consultant for the blind and visually impaired children. Tinnitus is debilitating - and in the end, he had to give up work as a teacher.
As mentioned earlier, he started to play the guitar after a 20 years pause. The Internet had become an essential tool for guitarists and he was pleased to see so much tremendous talent along with a renaissance of new music. Unfortunately, not much was published as quality sheet music, and he decided to spend his retirement collecting largely unknown music and make it available for guitarists worldwide.
That is the story about how Bergmann Edition came to life. Currently, more than 120 composers contribute to the collection which now has a goal to publish for the classical guitar.  Additionally, several of the artists also contribute by assisting with English translation, engraving, and even creating graphics for the covers.
As the chairman of the association, Allan Bergmann works for free. All income goes to pay royalties to the composers, cover the costs of running the business, and finally support guitar festivals. You can contact Allan Bergmann by phone 07810276979 or email,  allanbergmann@gmail.com           
Website: www.bergmann-edition.com      Facebook: https://www.facebook.com/bergmannedition
Drawn towards the lure of working with hand tools, and due to his love for guitars and urge to create, when Michael Edgeworth was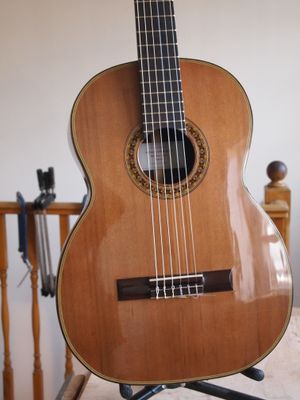 13 he decided he was going to become a classical guitar maker.
At 15, in 2009, Michael paid a wonderful visit to Dave Rodgers, the builder of classical guitar machine heads. It was the first time Michael had met a master craftsman. Michael built his first guitar the following year, a spruce and maple Torres copy, under the
tutelage of the luthiers at Newark College. In the same year was a stunning visit to a collection of guitars called "Granary Guitars". There was such an aura of romance and magic around the Granary guitar collection. The seriousness and majestic quality of the guitars,
each one bursting with personality, is imprinted on Michael's mind when building his own instruments.
Michael is building one guitar per month. He is aiming to possibly increase this output with the investment of machinery. He currently builds entirely with hand tools and finishes by brushing lacquer. He builds traditional classical and flamenco guitars, and is developing a
nomex double top model. In 2019 he attended the Antonio Marin Montero guitar making competition in Granada, and had a chance to speak extensively with two guitar dealers, David Collet of GSI, LA, and Alberto Cuellar of Jitamen, China - as well as the Granada luthiers and fellow aspiring luthiers. Extremely inspired, he left with clear goals and a standard in mind, and over the past year believes he has achieved a standard of workmanship and sound which would impress dealers and players alike. Michael is absolutely aware of the high standard of instrument rightly expected by buyers and guitar dealers, and is committed to building a reputation for consistent high quality guitars.
You can contact Michael at mtedgeworth@hotmail.com or at 07446336013.
Also, you can follow him on social media: 
https://www.instagram.com/michaeledgeworthguitars/
https://www.facebook.com/michaeledgeworthguitars