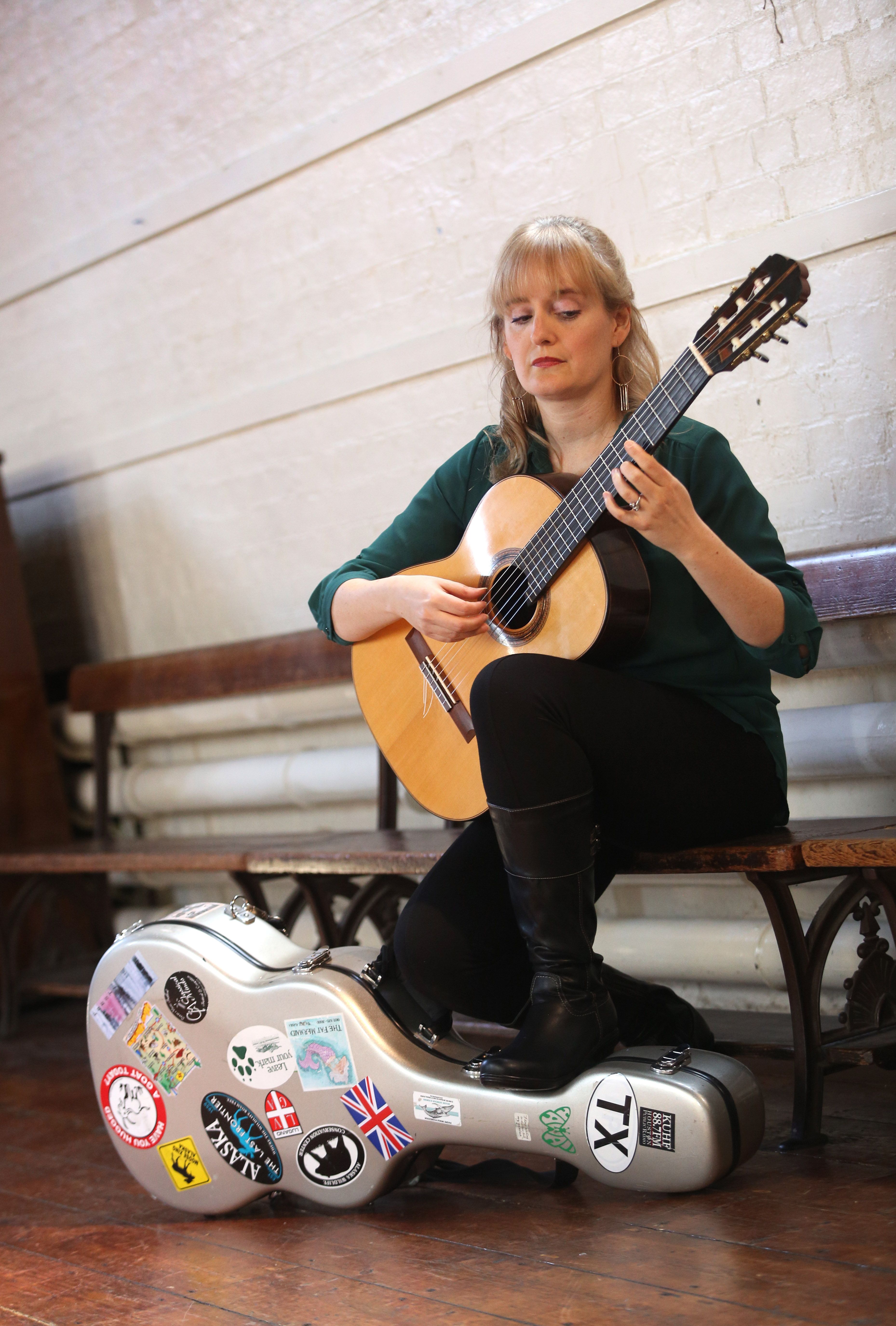 "Terrific! Flames licking at the guitar!" -BBC Radio 3
Valérie Hartzell began her classical guitar studies on a half-size Ramirez at the age of three. At the age of six, she studied with maestro Alexandre Lagoya at the Académie Internationale d'Eté in Nice, France.
She has performed in Europe, Canada, the U.S. and has appeared on television in Nice, FR and Houston, TX. She has also been featured on National Public Radio in Texas and Alaska, the show "Women in Music" which is broadcast on CKWR, 98.5 FM Canada, American syndicated radio show, Classical Guitar Alive!, and on BBC Radio 3 on the show, In Tune. She has been featured in several guitar magazines and newspapers including The Times & Citizen (UK), The Bedfordshire Oracle (UK), Anchorage Daily News (USA), South Warrington News (UK), Warrington Guardian (UK), Ashbourne News Telegraph (UK), Soundboard Magazine (USA), Nice-Matin (FR), Classical Guitar Magazine (UK), Dronfield Eye (UK) and Gendai Magazine (Japan).
She has performed in over 30 festivals, including the Middle Tennessee State University Festival, the East Carolina University Competition and Festival in Greenville, NC, the ChamberArt Music Festival in Madrid, Spain, the Pennsylvania Academy of Music Festival sharing the stage with Eliot Fisk, Guitaromania in Agen, France, the Annual Classical Guitar Fall Festival in Oneonta, NY, the Menil Community Arts Festival at the Rothko Chapel in Houston, Texas, was the first and only classical musician selected to perform on the BBC Introducing Stage at the 2017 Latitude Festival, at the Taipei American School Arts Festival in Taiwan and most recently toured around the coast of Norway in the Arctic Circle.
In the UK, Valérie has been featured as a guest soloist for the Oxford Guitar Society, the Manchester Acoustic Guitar Society, the Liverpool Guitar Society, the Ealing Guitar Society of London, the North Wales Guitar Circle, Music on the Quantocks, The Mayfield Music Society, and in the U.S., she has performed for the New York City Classical Guitar Society, the Grand Canyon Guitar Society, the Performing Arts Society of Kenai, Alaska, the Troubadour Series at Wofford College, Triangle Guitar Society, at Arizona State University, Appalachian State University, Auburn University in Alabama, University of Texas at Dallas, University of Alaska at Anchorage, and Peck School of the Arts (Wisconsin).
In England she has performed in prestigious venues such as Warrington Parish Church of St. Elphin in Warrington, St Mary Magdalen in Geddington, the Holywell Room at Oxford University, Clare Hall at Cambridge University, and the 1901 Arts Club in London.
In Texas, Valérie has also performed with studio members of the Houston Grand Opera at the Rienzi Recital Series, Fantasia para un gentilhombre by Joaquin Rodrigo with the Kingwood Pops Orchestra, and Carols of the Southwest by Conrad Susa with the Houston Chamber Choir.
Additionally, she is an international prizewinner in 8 international competitions including 1st prizes at the 10th International Guitar Competition "Simone Salmaso" in Italy and at the Concours de Guitare Classique Heitor Villa-Lobos in France.
At the Peabody Conservatory, Valérie studied with Manuel Barrueco earning her Bachelor Degree of Music in 1997. She was awarded a Graduate Teaching Fellowship at Radford University and was placed as Adjunct Faculty while studying for her Master Degree in Arts, receiving it in May of 1999.
Her CD, Ex Tenebris Lux, recorded at the National Public Radio studios in Houston, was released through Soundset Recordings. Her second CD 'Presti,' an ensemble project, was also recorded at the NPR studios.
Currently, Valérie lives in Somerset, England where she composes (published through Bergmann Edition) and maintains an active concert career both as a soloist and as a chamber musician. She teaches at Leweston School in Dorset and is the Artistic Director to the "Classical Minds" Guitar Festival held in Somerset.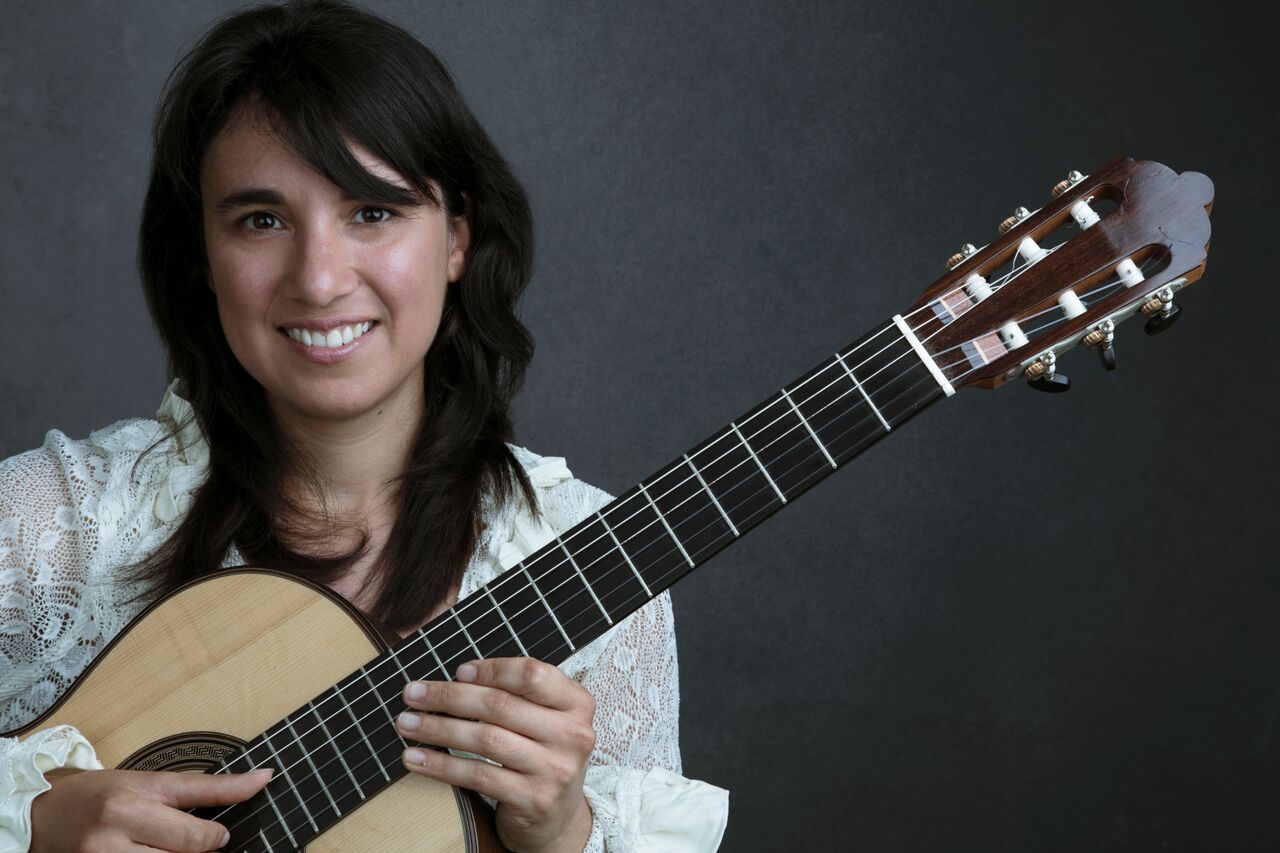 Daniela Rossi is an exciting classical guitarist from Argentina. Born in Bahía Blanca and currently based in Cambridge, UK, Daniela regularly performs in Latin America, Europe and UK in solo recitals, in duets and small ensembles, for TV shows and radios.

Studies:
Daniela studied guitar with Eduardo Gonzalez Velasco at the Conservatory of Bahia Blanca, where she graduated in 2006.
Daniela studied with Eduardo Isaac and Victor Villadangos in Argentina for several years. She also developed a functional way of playing with guitarist and music therapist Liliana Ardissone and Feldenkrais practitioner Nora Bandieri in Buenos Aires.
After moving to the UK, she studied with Graham Devine in London. She has also taken masterclasses from Aniello Desiderio, Pavel Steidl, Nigel North, Goran Krivokapic, Carles Trepat, Alex Garrobé, Ricardo Gallén, Máximo Pujol, Margarita Escarpa, Ignacio Rodes, Zoran Dukic, Walter Heinze, Pablo Ascúa, Silvina López, Ernesto Méndez, Dolores Costoyas, Omar Cyrulnik and Graciela Pomponio. She continues her artistic development with Paolo Pegoraro and Adriano del Sal at the Segovia Guitar Academy in Pordenone, Italy.

Awards and recognition:
Daniela has won numerous performance awards and prizes in South America and in Europe, including First Prize in the London International Guitar Competition (2015), Second Prize in the Heinsberg Guitar Competition and Festival in Germany (2017), and First Prize in the prestigious XXXVI Luis Sigall International Music Competition, Viña del Mar, Chile (2009). She was also a prizewinner at "Concurso Internacional de Guitarra Julian Arcas) (Almeria, Spain, 2015) , at "Certamen Internacional de Guitarra Norba Caesarina (2008 and 2009) and at "XII Concurso Internacional de Guitarra Ciudad de Coria" (Coria, Spain, 2008), among others.

Notable Performances:
Daniela's orchestra debut was at age of 21 in Mexico with the University of Hidalgo Symphony Orchestra performing Concierto de Aranjuez and other concerto engagements have included performances with the Newham Phillarmonic at King's Place (2016, UK), with the Almería City Orchestra (Spain, 2015), with the Symphony Orchestra of Chile at Teatro Municipal de Santiago and "Semanas Musicales de Frutillar" (Chile, 2010), with the Regional Orchestra of Chile at Teatro Municipal de Viña del Mar (2009), with the
Bahía Blanca Symphony Orchestra (Argentina, 2006 and 2010). She was the guest artist of London Guitar Festival at King's Place (2012 and 2016), Segovia Guitar Week in Pordenone (Italy, 2015) Corsi Internazionali di perfezionamento musicale, Cividale del Friuli (Italy, 2014), The Sage Gateshead, Newcastle (2012), Canterbury Society Series (2009) London Festival at Bolivar Hall (2008 and 2009), Whitstable Music Society Series (2010), Homage to Agustin Barrios in Asunción and San Juan Bautista de las Misiones (Paraguay, 2007 and 2008), Festival Ramon Noble (Mexico), Festival Guitarras del Mundo (Argentina, 2000, 2003, 2004, 2006), as well as many others.