St Martin's Church, West Coker
History and Curriculum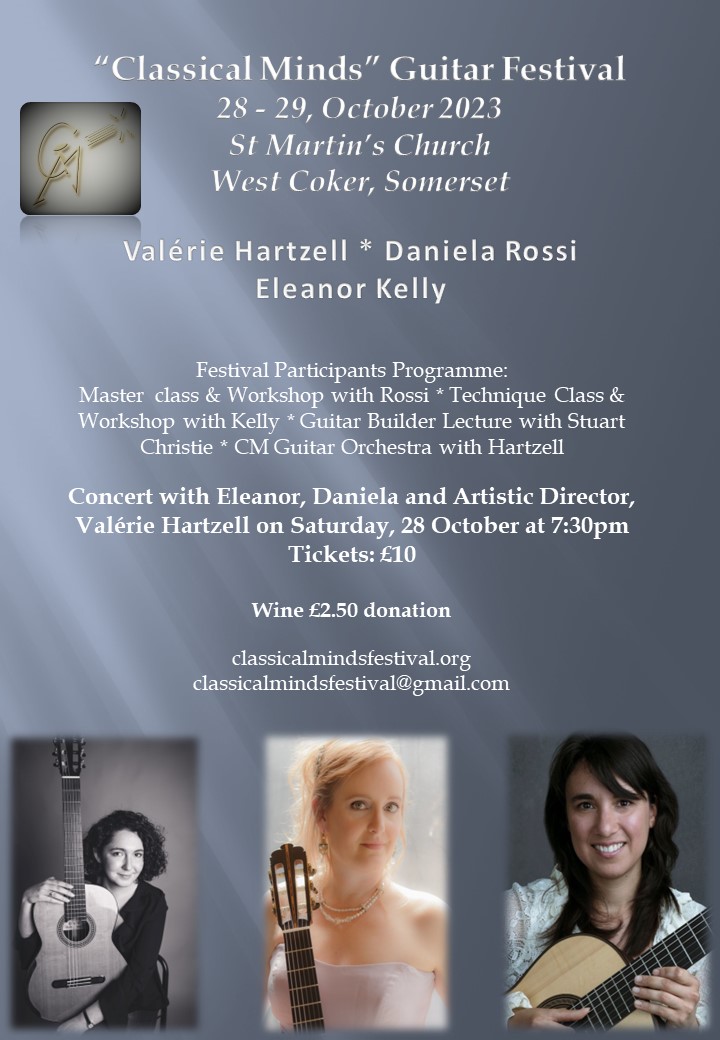 History
Artistic Director, Valérie Hartzell, founded the "Classical Minds" Guitar Festival and Competition in 2004 as an Institute of the Immanual and Helen Olshan Texas Music Festival at the University of Houston. The goal was to educate the Houston community about classical guitar and to enhance knowledge of the instrument. As both festivals grew, it became necessary to seek a new venue with more space. In 2016, "Classical Minds" moved to the campus of Episcopal High School in Bellaire, Texas. When Valérie moved to England, she decided it was time to bring the festival with her.
Renowned concert artists and educators came from throughout the world to teach, coach, judge the international competition, lecture and perform in concerts and recitals. Our first UK "Classical Minds" took place in the village of Foxton at Foxton Village Hall in March 2020, just outside of Cambridge. Our 16th year took place online due to lockdown and because it was so popular, we led a few online Workshops throughout the past two years. Now, we are excited to announce that the 17th edition of the "Classical Minds" Guitar Festival has found a new home at St Martin's church in West Coker. Come join us for lectures, master classes, workshops, guitar orchestra rehearsals, a student recital, and faculty concerts!
The festival is open to all ages from middle school through university, plus adults who study privately or just enjoy playing classical guitar. 
Guest Artists/Faculty
Past faculty included Gohar Vardanyan, Matt Palmer, Adam Holzman, Rene Izquierdo, Ernesto Tamayo, Martha Masters, Edel Muñoz, flamenco guitarist Jeremy García, Kithara Duo, Irene Gomez, Randall Avers, Frank Wallace, and so many more from around the world. In England, we hosted Daniela Rossi, Valérie Hartzell, Raymond Burley, Eleanor Kelly, and Mathew James. In October 2023, we welcome again Daniela, Eleanor, and Valérie.
In September, 2021 we had our first CM all-day online workshop with Mat, Daniela, Eleanor and Valérie and in May 2022 we had Jeremy García collaborate with Valérie. We had a fabulous time and we will continue to do online workshops with various guitarists from around England and the U.S. throughout the coming years even with our festival being live and in West Coker in 2023. We will look forward to welcoming back Eleanor, Daniela and Valérie.
Festival Offerings for October 2023
For the festival in October we will have  intense workshops and master classes given by Valérie Hartzell, Eleanor Kelly & Daniela Rossi.  Our CM Guitar Orchestra will meet several times on Saturday and Sunday with intense rehearsals. Also, on the 29th, participants (solo or small ensembles welcome) will be encouraged to perform for the group at the end of the day along with the CM Guitar Orchestra. However, the solo performances are not compulsory. The application is conveniently located on the web site: Application.
Concerts for October 2023 Festival
At 7:30 pm on Friday, the 27th of May we will feature our faculty Daniela Rossi at St Martin's. On Saturday the 28th, we will welcome Eleanor Kelly and Valérie Hartzell at 7:30pm. Coffee, tea, and wine will be available, donations accepted, along with raffle tickets. Concert tickets are £10 for adults and £5 for children.
Festival Offerings 
CM festival offers private lessons, master class, workshops, guitar exhibitors, lecture recitals, faculty concerts, and a participant solo recital. The Master classes are open to observing by all participants and their family. Please come back later for more information.
They Come Back
When CM was in Texas, many students returned each year and renewed old friendships and build new ones. They thrived under the instruction and tutelage of world-class instructors. We strive to continue this wonderful tradition in England. A festival is not just about learning and making music; it's also about making friends and connections.
Mission Statement
The "Classical Minds" Guitar Festival seeks to promote fine arts, music education as well as fostering artistic growth and creativity through the classical guitar while creating a sense of community for professionals and aficionados alike.
You are visitor number: 28825